Change is a Gift
Nothing was wrong. It just didn't feel right. I look back on the past year in Seattle the same way I feel when I hold a vanilla latte. Comfort, warmth. Two-feet-on-the-ground, head-in-the-right-place stability. We bought furniture. Joined an amazing church community. Ran my first 5k. Paid off student loans. Stocked up on household supplies at Costco. My life was wonderfully and unabashedly...
The Great Wheel, in Numbers
Height: 200 ft Tons of concrete: 550 for the foundation alone Weight: 280,300 lbs Pier: 57 Length of ride: 12 minutes Passengers: 252  Tickets: $13 for adults, $8.50 for children I've been walking down Alaskan Way for months as the ferris wheel slowly morphed from foundation to bones to a full fledged tourist attraction. At first, I was hesitant to embrace such a huge structure on the...
Thoughts from the Skagit Valley Tulip Festival
We drove up north to the Skagit Valley Tulip Festival, and were a little confused. It was the last weekend of June, which meant it was harvest season, and we passed fields and fields of decapitated tulip stems. Finally, though, we sighed in relief as we approached a crowded parking lot and THIS: We walked along the fields, dodging the mud puddles and careful not to step on any flowers....
Wake family reunion!
Mama Fresh, Hija, and Lovechild were united! When Mal Mal came to visit us in Seattle, we wanted to show her the epitome of Seattle: the Fremont Sunday market. Locally sourced honey, hot empanadas, and vintage odds and ends…you could go every weekend and never get bored. We stopped for a photo in the antique mall (above), where Josh bought an old Polaroid camera in really good condition...
$4 File Cabinet
As some of you may know, Josh is colorblind. He can see traffic lights and do normal things, but because of this he has a magnetic attraction to super bright colors. Our office is going to be our next big project. One of our biggest challenges is managing the massive amount of paperwork and mail that comes in our house…and never leaves. Thus, our search for a filing cabinet. Josh fell in...
Malm Hack: Tufted Headboard
This is the infamous Malm, compliments of IKEA. A regular in broke college students' apartments, this fine piece of furniture is about as plain and boring as… well, an assembled bed made of medium-density fiber board. We inherited this bed from a college friend, but weren't excited about it. Here's Futile Attempt #1, where we tried to hide the ho-hum frame with some...
How to Cook a Thanksgiving Turkey
We weren't sure what to expect for our first Thanksgiving in Seattle. Josh wanted to buy a few rotisserie chickens, but I refused. Thanksgiving without family is sad enough, but Thanksgiving without turkey would be…unfestive. So, with some trepidation, we bought a 6 pound frozen turkey. Two of Josh's friends were in town, and none of us had ever cooked a turkey before. We...
Back in action!
We've been: learning to cook, taking road trips, playing settlers of catan, hanging Christmas decorations, birthday partying, exploring, volunteering, FIFAing, reading Steve Jobs's biography, working, indoor skydiving, fixing cars, and wrapping presents. Check back soon for a new round-up of projects and adventures. 
How to Restore a Herman Miller Eames Shell Chair
Herman Miller's M logo may look unfittingly like an orange bikini top, but this guy designed midcentury modern furniture like Victoria's Secret designs lingerie: Very Sexy. If I could furnish my house with just one thing, it would definitely be a shell chair. We found 2 of those magical Herman Miller Eames shell chairs on Craigslist in Pittsburgh for a really good price. The seller was...
$15 Borders Sign Wall Art
I credit my dad to the fact that I love books. He had a very sneaky way of getting me and my sister excited about reading. Saturday mornings at the library were weekend field trips. Summer vacation always began with a long reading list. We never went to bed without a story, never started a road trip without a stack of books in the backseat. Needless to say, Borders has a special place in my...
How to do a Photo Transfer with Acrylics
Say hello to our new coasters! I took an acrylic class at Pittsburgh Center for the Arts and I finally learned how to an acrylic photo transfer. Basically, acrylic is made of plastic, so when a clear gel dries, it can pick up ink from newspapers, books, or similar printed materials. We needed coasters for our new coffee table, so I grabbed a pack at the dollar store. I'll upgrade to better...
The Midcentury Dresser Table
We're old people. Seriously, I was thinking about how much of a geriatric couple we are when we woke up at 8am on a Saturday morning to go to estate sales. But it's sad to know that after we're fully furnished, we won't need any more stuff, even if they're hidden treasures in someone's grandma's attic.  Anyway, we found this dresser for $5 in a guy's...
DIY Midcentury Desk
This is our one week anniversary of moving into our new place in Seattle, and we've been having fun getting it all set up. One of the best things about this house is the workshop in the basement, which is now covered in yellow sawdust and has frankenstein furniture parts strewn around the floor.  Josh spends more time at his desk than probably anywhere else in the house, so when we saw this...
1 tag
Epic Kickball Game
It was my first day at work, and there was talk of a fun, leisurely kickball game that night. Would I be interested? Uh sure. The last time I played was probably in 4th grade gym class and that horrible day when I kicked, missed, and stuck out is still a sensitive topic for my elementary-school self. Can you come early for practice? Mmkay. Practice for rec kickball? That should have been the...
1 tag
The Pirates...the Buccs...Both?
I was anxiously anticipating the Welcome to Pittsburgh! sign. Actually there was no sign to welcome me (or if there was I couldn't see it through the traffic near the bridge). But the curved yellow bridge does sort of hint at a smiley face. I haven't spent much time in Pittsburgh- just a few weekends here and there. I've tried crepes, ridden the incline, and played frisbee on...
Huacachina
Okay so we're backtracking but Huacachina is worth writing about. I think it holds a special place in our hearts because it was the first time we really felt like gringo tourists, but this trip was something to look forward to after the internship and our meeting with the Ministry of Education. I've never been snowboarding and I'm not too hot on a skateboard, but sandboarding was...
Islas Ballestas
Home to the blue-footed booby, Humbolt penguin, pelicans, sea lions, and the occasional dolphin colony, the Islas Ballestas are known as the "poor man's Galapagos." The islands, composed mostly of rock formations, certainly lives up to its name. You'll find a variety of exotic marine animals for only $15 USD, including the taxi to and from the port and the two hour boat...
3 tags
Tinco by Josh
We wanted to do a quick little post about the last school that we worked with in Ancash: Tinco. Tinco is a town just below Punta Callan (4225m), the high ridge just west of Huaraz which we went over to visit all our prior schools. This meant that is very high and very cold (freezing at night). Since the school was only an hour and a half away from Huaraz, we were planning on going to Tinco and...
Repaso
It took us until the end of our time in the schools to realize that we should really do a repaso, or a review, of all the activities and functions that we had taught over the past two weeks. It's one thing to lead kids and teachers through steps, but the time is wasted if no one can remember these things. We bought a bag of candy from the grocery store and the repaso was GREAT SUCCESS in...
Learning Spanish in Peru
It's not uncommon for Josh to walk into the café, order an orange game and some eyeball bread, and then inform the waitress politely that he is going to hit her with a credit card. After three months in Peru, Josh has come a long way from his unique form of Spanish sign language (shrugging and pointing to me to translate).  When I started learning Spanish a year ago, I remember how humbling it...
Whoohoo! Finished!
We finished up our last day teaching in Tinco, and literally hit the ground running. The director (like many of her fellow Peruvians) doesn't really care about the concept of time. We told her the combi would come at 1:30 sharp and that's when we'd have to be by the side of the road to leave. At 1:27 we stopped in her classroom to say goodbye, only to find her in the smokehouse...
4 tags
4 tags
Foods We Miss: A Thanksgiving Wish List
It may be early to talk about Thanksgiving, but the daily meal of unseasoned rice and potatoes is starting to taste like…well, unseasoned rice and potatoes. We decided to make a culinary pre-Thanksgiving wish list to share some food we desperately miss (If you read the last post, you'll understand why there isn't really a market for these delicious things). Here are the foods we...
Amuuurican Style
The teachers in Rurashca are proud of their culinary skills. They rotate lunch shifts each week, and they make do with a gas camping stove, plastic dishes, and tubs full of rain water (see the next post for more details on this little detail). We were more than happy to eat fried eggs, squash picked directly from the fields, sweet potato, with our daily serving of french fries and white rice....
2 tags
The Killing of a Toro →
I posted this photo as a link for the sake of those vegetarians or others who might not want to see them skinning a dead cow. Continue at your own risk :-) (PS The link is the title, viewer discretion is advised)
4 tags
4 tags
Hotel mysteries
We bargained a deal with a local hotel in the city, and the rate they give us is cheaper than any hostel in town. This weekend, I decided to finally ask what about the difference between a matrimonial and a double room. They always give Josh and I one or the other at the same price, but it consists of two beds every time.
Diego: Do you want a matrimonial or a double?
Hope: What's the difference?
Diego: A matrimonial has two beds.
Hope: And a double?
Diego: Two beds.
Hope: So it's the same thing.
Diego: No, one is a matrimonial and one is a double.
4 tags
3 tags
School #4: Rurashca
Rurashca is our fourth school, and it's finally nice and warm. Not hot or sunny really, but we don't need to bundle up as much because we're at the bottom of the mountain instead of the top. The other things is this place is much greener than we are used to. There is a river that runs right alongside the town. We can actually see Colcabamba, the first town we visited, from here. We've noticed...
1 tag
Lambs in Quishuar
1 day old 2 months old
1 tag
3 tags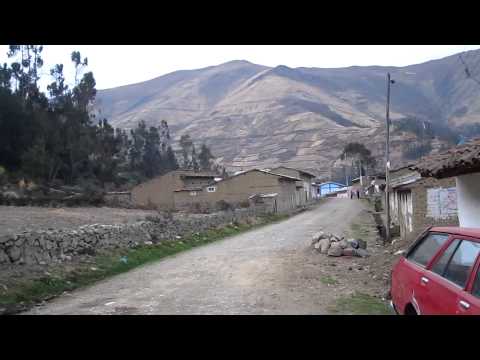 1 tag
Latest Post in the Tartan →
Gringos in Quishuar
"Hope Krista" is the name on my birth certificate. My grandfather was a pastor, and my mom got the idea from some passage in the New Testament that refers to "hope in Christ." But when I studied abroad in Buenos Aires, I changed my name. It wasn't something I did on a whim; for some reason, the P is difficult to pronounce for Spanish speakers, and I was just tired of being called "Ho" all the...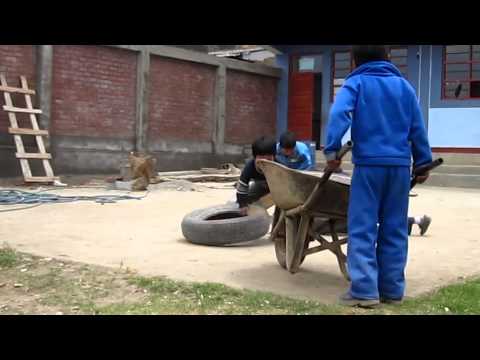 1 tag
4 tags
Lagunas de Llanganuco
3 tags
Cute Kid Thursday
3 tags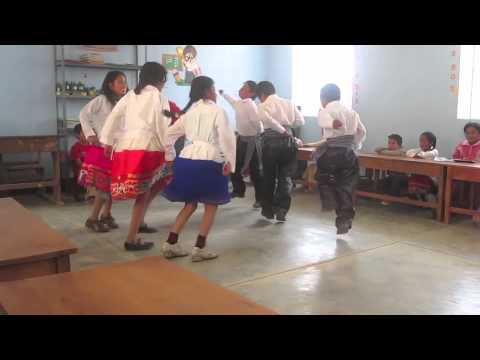 2 tags
Styrofoam Fun
What do you do when you're bored and you find some styrofoam on the ground? Well, you put it in your mouth and spit it at other people of course!
4 tags
First day in Quishuar
Tuesday, we finally left for the next school. Luckily, Quishuar is close to the road so we wouldn't have to walk 15 minutes across town with our backpacks, ride a bus for 2 hours along cliffs, and bushwhack our way up mountain for 40 minutes to get to the school like we did in Cantu. It was the school's 45th anniversary, and the whole town was celebrating. Each family donated a few guinea pigs...
3 tags
Sugarcane and Squares: A Day in the Life of an...
Isaac and his XO laptop   "How do we know what we're doing is actually…doing anything?" Jeff asked at dinner. I tried to cut my chicken with a dull knife and didn't know how to answer. Josh chimed in, "Yea, I mean these kids are always hungry. Girls have babies when they're fifteen. It's just the way it is. How do we know that handing them a laptop is even going to change anything?" I place my...
3 tags
Combi
Combis are our usual mode of transportation from Huaraz to neighboring towns. Unlike a bus you don't need a ticket- you just flag down the combi and they squeeze you in, reglardless if they have room. One thing to try and avoid is over zealous Combi operators (the people who manage the Combi door) who try to make their trips all too efficient which makes your ride more uncomfortable. Since...
5 tags
A Double Infection and a Parasite in 3 Months
Two weeks after arriving in Quito, I woke up to the sounds of my stomach churning. Then I sprinted to the bathroom, where I experienced a horrible episode of food poisoning. A week later, I couldn't keep any food down and I was losing weight fast. Even standing up made me dizzy, since my body was literally starving for food. After a lab confirmed I had a double infection (viral and bacterial), I...
3 tags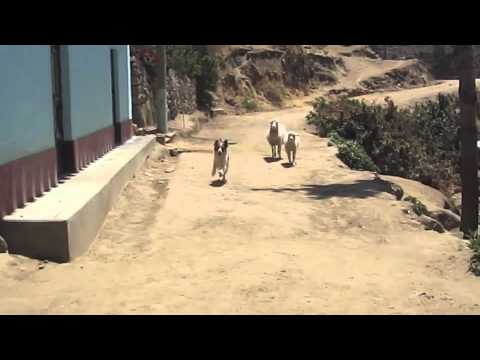 4 tags
3 tags